Custom Act! Software Development
If you're using Act! software and it just doesn't quite fit your needs, Titanium Development can customize the product to fit your needs.  Whether you need custom tables, controls, reports, interfaces or links to external applications, Titanium Development can provide the solution you need. In addition to being the premier Act! software developer and engineer for over the last two decades, we are also a Microsoft Certified Solution Developer.
Some of the systems we have integrated  

 with are:
Custom Act! Software Plugins and Tools
Whether you need something simple or complicated, Titianium Development can develop what you need. Below are just a few examples of some of the projects that we've done with Act!.
---
The first example is a custom dashboard, this one being for an Inventory Control System.
Data is synced with a back-end SQL server on a daily basis.  The user never has to leave act! to see their entire inventory.
Click to see a larger image
---
This next example is a three part solution, all contained within an Opportunity detail view.
The requirements for this project were:
Keep commission percentages and amounts, with automatic updating of related fields.
Relate several contacts to the opportunity, but have access to additional contact data.
Note:  The act! Opportunity's contact tab cannot fetch the extra data, so using that is out.
Do a mail merge showing all the players (contacts) related to the opportunity deal.
Note:  act!'s mail merge system does not process opportunities, so a custom mail merge engine
will need to be created.
Here is the multiple contact picker: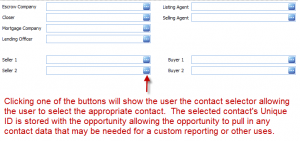 And here is the commission percentages and amounts control.

The two controls above are then dropped into the opportunity layout.  These will sync out automatically if you're in a sync environment.
The last piece is simply an icon that is placed on the opportunity toolbar allowing the user to quick perform a mail merge at the click of a button.
---
Want to SELL your own Retail Software?
Have you ever had an idea for a program but don't have the resources to complete it? Titanium DAC can develop your idea from start to finish. Everything from spec'ing the project out, to design, development & testing, packaging it up in an installer, licensing it and finally selling on your website. The client always retains full rights to the source code and may do with it what they wish.  Please contact us for pricing and details.